Company Highlights:
Nearly invisible protection for citizen's everyday use.
Provides concealed, ultra-lightweight, flexible, and highly effective personal protection products
Products are developed using a special proprietary formula, known as Nano-Protek
Nano Protek™ based armor are stronger and lighter than KEVLAR


About Citizen Armor
The Armored Citizen LLC d/b/a Citizen Armor began in May of 2017 with the hopes of providing everyday civilians with the opportunity to protect themselves and their loved ones from active shooters. Citizen Armor developed it products using a special proprietary formula, known as Nano-Protek. Nano-Protek combines the strength and power of Carbon Nano-tubes to aramid fibers making them stronger and longer lasting.
Citizen Armor is based in Spanish Fork, Utah and has approximately 20 employees who manufacture all of its products.

Investors Equity and Perks

Shareholders of Citizen Armored will receive unique privileges!

Invest Amount
Privileges
$1,000


10% Discount Coupon

$2,500

20% Discount Coupon

$5,000

30% Discount Coupon

$10,000+

40% Discount Coupon

FINALLY!
Nearly invisible protection for citizen's everyday use.
Citizen Armor provides concealed, ultra-lightweight, flexible, and highly effective personal protection products for peace of mind in any situation.


Not only is Nano Protek™ stronger and lighter than KEVLAR it also has the benefit of not losing it's protective strength when hit with multiple strikes in close proximity. In the video above we shoot 35 rounds from 9 mm and 45 mag hand guns concentrated in an area of less than 12 square inches and not a single slug penetrates the vest.


Problem of Traditional Body Armor
Body armor for many years consisted of heavy plates inserted into a carrier vest. They were very bulky and did not allow for unrestricted movement need in everyday use. In the 70's DuPont created KEVLAR. It is much lighter and five times stronger than plates of the same weight. Unfortunately it has a limited productive life (usually 2 – 3 years) and becomes non-protective when subjected to moisture. Other materials have been tried (including chicken feathers and spider webs) with various levels of success.

Our Solution - Nano Protek™

Early experimentation with carbon nanotube thread showed real promise but initially it was difficult and expensive to produce ( about $500/gram! ) In 2016 our researchers were able to blend carbon nanotube fibers into a substrate to create what we call Nano Protek™. With it we are able to create a soft body armor that performs to NIJ threat level II and IIIA standards. It is less that 1/4 inch thick and can be worn beneath everyday clothing. Athough it is lightweight and flexible it can stop a speeding bullet with an unusually low BFD (Back Face Deformation.) Unlike most KEVLAR products our body armor is not susceptible to moisture deterioration and carries a 7 year life-time warranty.

Citizen Armor Products

With Citizen Armor, You're ready to GO!






T-Shield… The Bulletproof T-shirt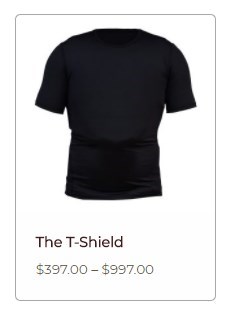 Traditional body armor has been big, bulky, heavy and prone to failure… not something the average citizen would wear every day.

All That's a Thing Of The Past, with New, Super Light-weight, Flexible Armor from Citizen Armor!

Sad, but true… in today's world it borders on irresponsible to go unprotected into the public square. And now you don't have to, because Citizen Armor presents great, Bullet-bouncing™ body armor that nobody even needs to know you're wearing. It's that concealable… that unobtrusive… that comfortable.

The T-Shield™ offers a completely concealable armor system. The Citizen Armor inserts work in conjunction with a compression shirt, which molds the armor to the body. By harnessing nanotubes we have produced the lightest, flexible armor available.

The legendary shock absorption of our Nano-Protek™ carbon nanotube armor not only bounces bullets but greatly diminishes body bruising or trauma by limiting the kinetic energy that would otherwise make it through the vest, even though the bullet is stopped. In technical terms, less back face deformation (BFD).

The T-Shield™ discreetly covers the vitals, front and back (heart, lungs, and liver). About 1/4″ thick, the armor can be concealed by almost any clothing.

This armor system also comes with our formidable, industry-best, 20-year warranty.
Citizen Armor Vests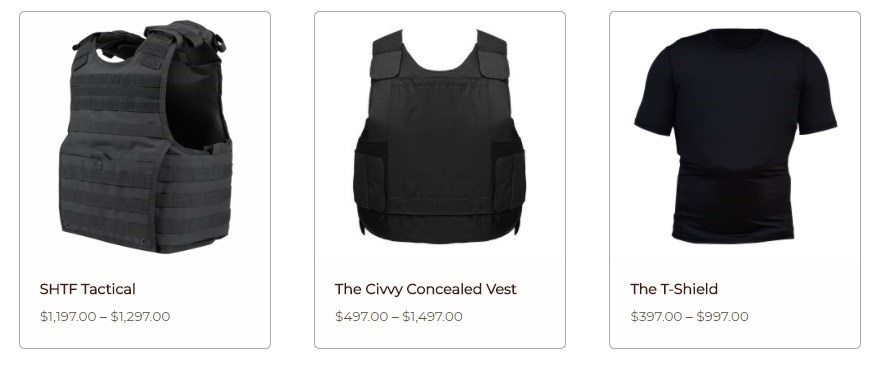 Inserts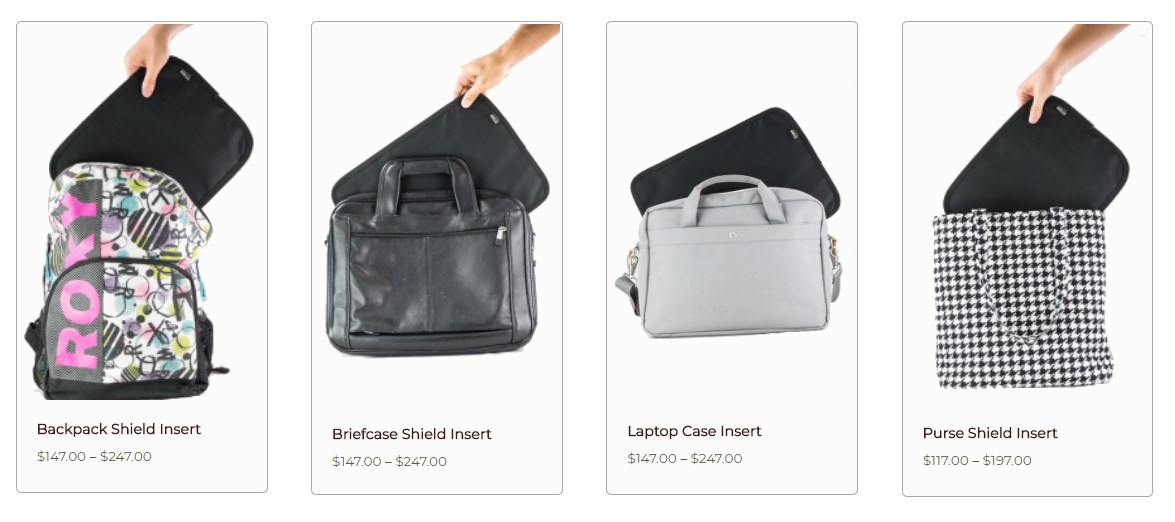 Founding Members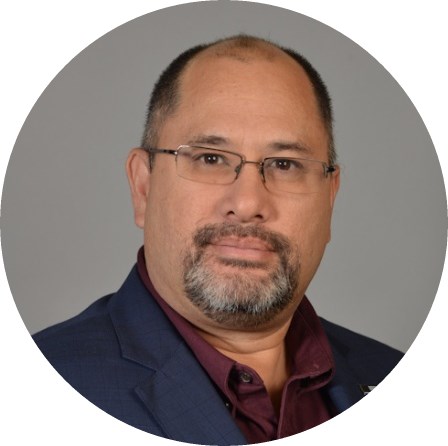 Aaron K Gilbert
President & CEO
Aaron is the Director of Citizen Armor and the CEO of ATEK Defense Systems. ATEK Defense Systems provides the technology solution, Nano Protek™ for the products developed by Citizen Armor.
Nano Protek™ is a proprietary formula and process developed by ATEK Defense Systems. The formula and technology utilizes Nano-technology to improve the performance of aramid fibers by causing it to no longer be subject to the effects of light or moisture.
Aaron is also the President and Owner of Optimum Funding Group. With contacts in New York, Hong Kong, London, Zurich and Frankfurt. Optimum Funding Group will assist companies in establishing a business format and procedure to obtain the necessary funds for the development of selected projects located throughout most of the world.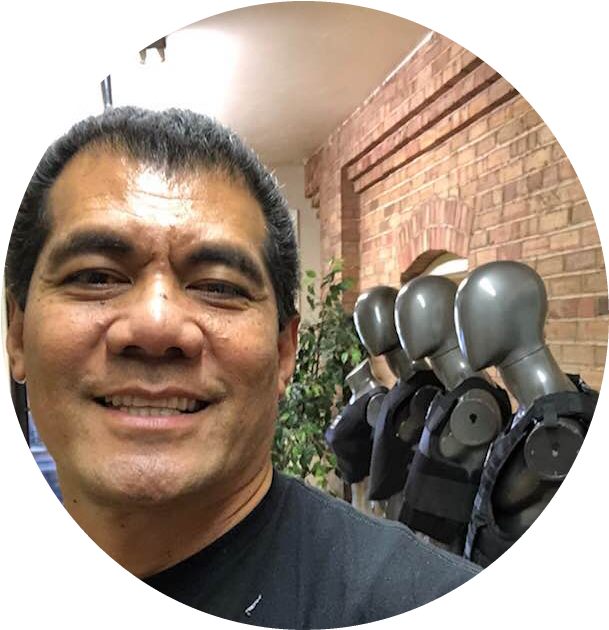 Omer Godinet
Vice President
Mr. Godinet serves as Vice President and in charge of developing, manufacturing and managing the production of ATEK's armored products. These included bullet resistant backpack inserts, concealed vests, tactical vests, vehicle glass, building glass and other related products. He currently manages and supervises multiple employees involved in the production process.

In 2008, Omer started his own business selling, installing, and servicing various Car Audio and Home Audio systems including alarms, cameras, gates, and doors. Mr. Godinet has a degree from BYU in Electronics and is a Certified Master Electrician and Certified Appliance Repairman. His company also repaired TVs, Radios, and many other electronic devices. He has hired and supervised over 20 people.

Civilian Body Armor Legal?
Is body armor legal for regular people? Ballistic body armor has had a certain stigma surrounding it for a long time as an item only military and law enforcement are able to obtain. Some people wonder "Why would you even want body armor?".
The truth is, you are more likely to be struck by lightning than be attacked by an active shooter, but that doesn't mean it can't happen. Just ask anyone from Ohio State University, Orlando, San Bernardino, Colorado Springs, Roseburg, Chattanooga, Charleston, Isla Vista, Ft. Hood, Aurora and too many others to list them all.
– Small-Town Shooting –
Even here in Utah, there have been many shootings that don't make national headlines. A normally peaceful town about 1/2 hour south of Salt Lake City has recently had its fair share of gun violence. In December alone, American Fork has seen two violent public shooting incidents. One started in a Wal-Mart parking lot and ended with two dead and a shootout in a Cinemark parking lot. Another on Christmas Eve while a woman worked as a convenience store clerk and her estranged husband walked in, middle of the day, and shot her multiple times. If you would have asked anyone in American Fork in November if they thought they were in any danger of being shot, they probably would have laughed it off. Such is the case with many towns throughout the U.S.
We do not want to participate in any sort of fear-mongering but we do want people to be prepared as much as possible and as much as needed. It's hard to say how much preparation is needed because it's hard to see the future. Preparation begins with each individual person and their personal situation. Whether you feel like you are in danger of being shot at, you want daily wear armor just in case, or you're preparing for the end of the world when the SHTF, Citizen Armor will gladly help all responsible citizens.
– But Is Body Armor Legal? –
Contrary to popular belief, anyone with a clean record can buy body armor. There is a stipulation for Connecticut, where body armor purchases must be fully transacted face to face. Other than that, if you don't have a felony on your record, you can buy and own body armor! There are no background checks for body armor purchases as there are for firearms purchases. There are currently no registrations for body armor ownership. Even in gun-restrictive states, body armor is available for civilian use. If you feel the need to protect yourself and/or your loved ones and you don't feel comfortable carrying a gun, body armor is the next logical choice.
Body armor legal second amendmentThere have been continued efforts to ban armor for civilian use, just as there have been continued efforts to restrict gun and ammo purchases. Body armor legal problems could result, but usually these bills don't gain any traction. However, it's still something to keep an eye on. The so-called "Responsible Body Armor Possession Act" isn't really an act for responsible ownership. It's an act to "prohibit the purchase, ownership, or possession of enhanced body armor by civilians, with exceptions". We believe that body armor is as much a part of the second amendment as firearms and all responsible citizens have a right to ownership.
– All I Need is my Gun!? –
Body armor protects you without you needing to do anything. A gun can protect you if you draw and fire it, but body armor protects you even if you are asleep. The benefit of equipping Citizen Armor is the low profile and relative comfort when compared to other soft armors. You don't want everyone you meet to know you're wearing armor. You don't want to sweat through the summer months with an extra 10 lbs of armor under your shirt. We also know the ladies don't want to wear armor that smashes and squishes the female anatomy, especially breastfeeding moms. We have answers to all these issues.
The majority of active shooter incidents occur with a handgun. Citizen Armor protects against most handgun threats. The SHTF armor system and inserts protect against handguns up to .44mag, a round which is strong enough to take down a Grizzly Bear. The point is, anyone can equip some armor to make their lives a little safer. Mom and dad can wear it at work, kids can have it in their backpacks at school. IF you feel like body armor is necessary for you and your family, we are here to help.
Business Strategy

Citizen Armor has been very aggressive in developing specialty products for civilian's everyday use.  Citizen Armor has licensing agreements to numerous patents and unique intellectual property that will help make Citizen Armor very competitive.

Citizen Armor has products that can be worn everyday under and/or over clothing as well as inserts that go in backpacks, briefcases, purses and other carrying devices.  We also have a fully deployable Modular Backpack product.  Also, we have our T-Shield vest which is a light weight, breathable armor that covers vital areas and can be worn underneath existing clothing, and more.

We have become extremely good at finding niches in the marketplace that have not being fulfilled and then develop products/services that meet them.

We have several products that are in the R&D process and part of the proceeds of this funding will help bring those projects to market.

Marketing Strategy

The Armored Citizen will be establishing a Nationwide and International dealer network to market and sell its products to the public and specialized niches.  When possible, The Armored Citizen will utilize Distributors who are gateways to the company's targeted dealers.  Our goal is to target FFL gun dealers nationwide.   

Citizen Armor can sell to Military and Law Enforcement since it has an NIJ certification.  We have chosen to not actively market to them and let the hundreds of other competitors fight for the already small margins.  If our dealer network wishes to sell to these markets they will have the ability to do so.  There is typically larger margins with smaller rural police departments.

With a planned nationwide television program we feel it will be a great way to kick off our expanded marketing plans.  The show estimates to give us exposure to literally millions of viewers.  The show will give us exposure to these potential customers and will also give us exposure to potential dealers and sales reps as well.  The investment funds raised from the shows promotion will greatly enhance the additional marketing campaigns of the company.

Tradeshows like the NRA, gun shows, preparedness shows, and other shows give us a direct exposure to customers and our major demographics.  We plan to have the company, it's dealers and sales reps to participate in as many targeted industry trade shows as possible.

Social Media and Online Influencers are becoming a major focus for Citizen Armor direct sales.  The company will start using these medias to get direct sales as well as company and product branding.  As the company starts getting a larger dealer network, the social media will be more used as a branding and marketing to help support the dealers and their sales.   Eventually, the company will no longer sell products through its website but will direct interested buyers to the closest gun dealer to purchase Citizen Armor products.  We have employed social media (mostly Facebook) in the past with a great deal of success and are developing a social media campaign to correspond with nationwide television show.

Another market Citizen Armor has tested and is working on is a new campaign working with online influencers such as YouTube influencers.  These individuals have a large following on their channels and get a lot of views.

Operational Plan

Locations & Facilities

The company is leasing 2,000 square feet of office from its parent company ATEK Corp.  ATEK Corp as a large warehouse-manufacturing space in Spanish Fork, Utah.  ATEK's facility contains approx. 8,000 sq. ft. of office space and 38,000 sq. ft. of warehouse-manufacturing space.  

Technology

Citizen Armor has acquired licenses and marketing rights of proprietary products from its parent company, ATEK Corp.  Some of these include a patented, deployable backpack module, cognitive exoskeleton vest, bullet-resistant custom jackets, coats, suits, a bullet resistant holster, specialty armor bags and many more products that are still in the R&D phase.

Citizen Armor also has the rights to sell ATEK Corp's, Nano-Protek products.  Nano-Protek is a proprietary formula made of carbon Nano-tubes (CNT) and other materials that make standard aramid fibers (aka Kelvar) better in so many ways including ballistic abilities, stronger connective fibers, water resistant and extends life of aramid fibers indefinitely.  

Citizen Armor works directly with ATEK Corp and its other subsidiaries for most of its manufacturing, but also has other high-quality companies that manufacture the high quality custom clothing like, suits, jackets, coats, purses, briefcases and backpacks.   To begin with, the company has contracted with various U.S. manufacturers such as Condor Outdoors, Stealth Gear, and Geigerrig.  These companies will be used to produce its concealed vests carriers, tactical vests carriers, backpacks, pants and holsters.  As time goes on the company will search out additional suppliers both domestically and internationally.  

Citizen Armor works with it's parent company ATEK Corp R&D department to help develop new products to be marketed through its distribution channels.

SWOT Analysis


Competition

A few of our major competitors include AR500 Armor, Bullet blocker, safeguard clothing, Infidel Body Armor, Bullet Safe, Bullet Proof Me, and Gray Wolf Survival.   Currently, these companies are all smaller.  AR500 Armor is one of the largest suppliers.  Many of these companies don't make their own armor, but have it made in China and other countries.   AR500 Armor does have a small dealer network since they also sell to law enforcement.  The other companies only sell to the civilian market. 

Our Advantages

We have several advantages over our competition one being, through our parent company ATEK Corp., we make all our own armor in house.  We can do our own research and development right under one roof.  We also have a team of experienced marketing and sales consultants ready to jump on board and go full steam ahead.

Another advantage that we have is our licensing rights to patents and technologies such as Nano-Protek, RTG backpack, Alpha Vest, and other soon to be announced patented product such as Armored Shield Glass Products, Building products, Ballistic Vehicle products and much more.

Market

Civilians have slightly different needs than full time law enforcement officers.  Even though we carry many of the same products that you would find in law enforcement we specialize in products that are convenient, light weight, concealable and practical for the everyday civilian.  

The Civilian market is still very much in it's infancy.  Many still don't realize that armor can be legally owned by law abiding citizens.  We find that as we educate individuals we always get sales.  We have some unique products that the average civilian would want to own.

One part of the civilian market we believe we can get a large foothold in, is the preparedness market.  It is estimated that more than 68 million Americans have purchased survival gear considering recent events and natural disasters (resource: Finder.com/doomsday-prepper-statistics).  With that said a very small portion of these individuals have armor due to the fact most of them believe its illegal for civilians to own armor.  With the right education we believe this is a very large "untapped" market.

We feel that the market to gun owners is probably one of our largest markets.  The dealers who sell guns and ammunition have direct access to literally millions of gun owners.  There are nearly 80,000 FFL gun dealers in the United States.  We are planning to set up a nationwide gun dealer distribution channel in the US.  Our goal is to educate them, give them the materials and tools they need to market and sell our products.

School Children (1-12 & college).  Since the recent shootings, political unrest, mobs after a natural disaster and who knows what else, parents are finding their own ways to protect themselves and their children.  Every time there is a shooting reported in the country our sales have spiked.  We believe with national television, press releases, additional marketing and a nationwide dealer network we can tap a large percentage of this market as well. 

Security companies are another area we feel we will shine.  There are more private security personnel in the country than there are law enforcement personnel.  

Police departments and military are good markets, but there is so much competition that we don't consider this our major market.  If your dealers and reps want to sell to law enforcement, we have the NIJ Certification that will allow them to do so. 

Marketing efforts of the company will be focused on utilizing multiple streams of sales that are common in other industries.  These will consist of establishing a strong distributor network and gun dealers that have already established relationships with our desired demographic customers.

Human Resources


Social Responsibility

The soft body armor for police and military is very competitive and tends to have very low profit margins, yet the civilian soft body armor is virtually untouched since there has been a perception that its illegal for civilians to own armor.

We have markets with over 153 million potential clients, and the market is just beginning to open. We feel like we are able to take advantage of these opportunities.

Recently we had a 10x20 booth at the NRA show and had the opportunity to show off several of our products.  We have a great response from show attendees and had hundreds of people sign-up for our RTG backpack pre-sale sign-up.  

After the last couple of school shooting here in the US people are warming up to the idea of needing more protection and have been checking into the possibility of personal body armor.   We even had a very wealthy philanthropist call and ask if he could purchase nearly 6,000 backpack inserts for children in his school district.  

The industry generally has been stagnant in developing new technology.  There has not been a lot of new development.  We are changing that literally every day as we find needs that have not been met.  

NIJ Testing and Certification.  In law enforcement they have a governing body called the National Institute of Justice (NIJ) which is the national agency in charge of certifying all body armor for law enforcement use.   The Armored Citizen currently has a certified product listed on the NIJ website.  

Even though civilians do not need to have the NIJ approval to purchase body armor, there is a level of comfort knowing that our armor is tested and certified to meet the most rigid of Personal Protection Equipment testing.  We can manufacture armor from levels I, IIA, II, IIIA and IV.

Future Plans

Citizen Armor is one of the first companies in the country to be designed from its beginning to service the protection needs of civilians.   The company's 5 year plan includes ascending to the top of the civilian armor industry and then dominating from above.   Initially, the company will focus on online marketing campaigns to gain consumer recognition and acceptance. Then the plan is to recruit dealers and distributors nationwide and if possible, internationally to carry its products.  Eventually the goal is have the company's products carried and sold by some of the nations largest retailer outlets.  At the end of five years or when the time is right, the company will make arrangements to go public.


Financial Year
Dec-2017
Revenue
$362,296
Cost of Good Sold
$197,073
Taxes Paid
$8,848
Net Income
($19,703)
Total Assets
$17,455
Cash & Cash Equivalents
$360
Accounts Receivable
$0
Total Liabilities
$37,158
Short-term Debt
$37,158
Long-term Debt
$0

Dividend Policy

The declaration of future dividends by the Company will be subject to the discretion of the Board and applicable laws and will be dependent upon the Company's financial condition and operating results. 

The Company currently intends to retain any future earnings to fund business development and growth, and we do not expect to pay any dividends in the foreseeable future. Therefore, shareholders expecting regular income may find that investing in the Company may not be able to meet their investment objective.

Risk Factors





Note:


The information provided is a summary only. Please review the full offering documents (Form C) for a full description of the company and offering.



You can cancel an investment commitment until 48 hours prior to the offering deadline.


$4,000


8%
target $50,000

5
investors




to go
$50,000

$1,000,000

$8,600,000

0.58% - 10.42%

Membership Units

Regulation CF

30 Jun 2019

Unit Price

$1.00

Units Offered



50,000 - 1,000,000

Units Issued After Offering



8,650,000 - 9,600,000

Corporate Profile:

The Armored Citizen, LLC

Utah

19 May 2017

801-758-0588

150 N Draper Ln
Provo
Utah 84601
USA


Technology

10

Major shareholders: