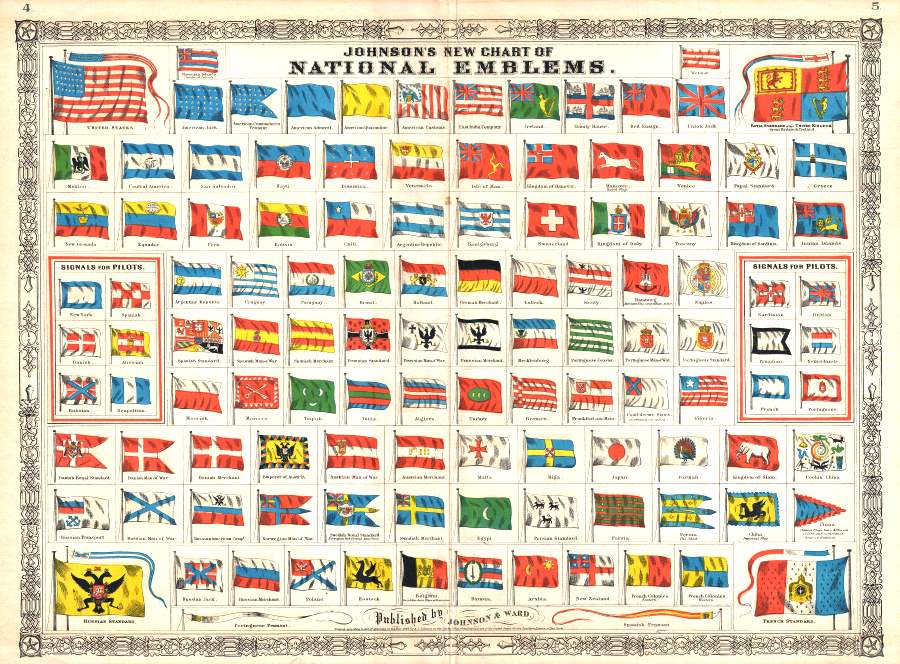 Johnson Chart of the Flags and National Emblems of the World




Can foreign investors invest in Reg CF offerings through equity crowdfunding platforms?
The answer is yes. Foreign investors can invest in Regulation Crowdfunding equity crowdfunding in the U.S.
Let's have a look on the Title III Regulation Crowdfunding of the US. Although the Regulation Crowdfunding doesn't address explicitly the legal issues on foreign investors' investment in securities offered on equity crowdfunding portals, on p. 266 of the Final Rule: Crowdfunding, SEC mentioned that:
We have considered the comments and believe that the final rule appropriately takes into consideration the need to provide more choices for U.S. issuers seeking to use intermediaries or access investors outside of the United States, while meeting the challenges associated with supervising, examining, and enforcing rules regarding activities of intermediaries based outside the United States.

The above paragraph is a discussion of Rule 400(g), registration pursuant to Rule 400 of Regulation Crowdfunding by a "nonresident funding portal". (Mr. Crowd was the first nonresident funding portal registered with the SEC!) and it clearly indicates that the SEC allows companies to accept investors outside the United States. In fact, nonresident funding portal is designed to broaden US crowdfunding efforts to overseas and raise foreign investor capital for US companies, under the radar of the SEC and FINRA to ensure the enforcement of U.S. laws and regulations with respect to funding portals that are not based in the United States.

Allen Au - author
The Chairman and Chief Software Architect of Mr. Crowd

Disclaimer:
The above answer is prepared for informational purposes only and should not be considered legal advice. Readers should consult and seek legal advice from securities attorneys.



Disclaimer:

This blog article (the Article) is provided by the author for the purpose of providing information to the public in the United States. It is not intended as investment advice and must not be relied on as such.

Mr. Crowd does not assume responsibility for editing or verifying the accuracy of the information contained in the Article. To the maximum extent permissible by applicable law, Mr. Crowd assumes no liability or responsibility whatsoever for any errors or omissions in the Article. Mr. Crowd does not endorse or represent the reliability or accuracy of the Article. Mr. Crowd shall not be liable for any investment decisions made based upon the Article.

The Article may contain hyperlinks to external websites or web pages for which Mr. Crowd is not responsible.

Any copyright information exists in the Article may belong to Mr. Crowd, to the author or to any other parties depending on the circumstances. Reproduction, distribution, use and/or linking without consent from the relevant parties is not permitted.

If you believe that any information contained in the Article is inaccurate, erroneous, unlawful, obscene, defamatory or infringes any intellectual property rights of a third party, please contact Mr. Crowd by email at:
cs@mrcrowd.com
.

Invest
$100
on US Startups

| | |
| --- | --- |
| Register Now | |

Success By Media LLC (SBM)


raising up to $1,000,000


| | |
| --- | --- |
| Regulation: | Regulation CF |
| Securities Type: | Membership Units |
| Share Price: | $4.00 |


to go
The Armored Citizen, LLC (TAC)


raising up to $1,000,000


| | |
| --- | --- |
| Regulation: | Regulation CF |
| Securities Type: | Membership Units |
| Share Price: | $1.00 |


to go
Organic Living, Inc (OL)


raising up to $1,000,000


| | |
| --- | --- |
| Regulation: | Regulation CF |
| Securities Type: | Preferred Stock |
| Share Price: | $0.50 |


to go
Fragrance of Heaven LLC (FOH)


raising up to $1,000,000


| | |
| --- | --- |
| Regulation: | Regulation CF |
| Securities Type: | Membership Units |
| Share Price: | $20.00 |


to go
Outlook Corporate Consulting, LLC (BMD)


raising up to $1,065,000


| | |
| --- | --- |
| Regulation: | Regulation CF |
| Securities Type: | Membership Units |
| Share Price: | $7.50 |


to go