On Sunday, the Treasury Department tweeted that Secretary Mnuchin conducted a series of calls today with the CEOs of the nations six largest banks. The statement said that the CEOs confirmed that they have ample liquidity available for lending to consumer, business markets, and all other market operations.
The Treasury chief's calls to the big 6 bankers came after the Dow Jones Industrial Average DJIA posted its worst week since 2008.
In the statement, Mnuchin also confirmed that they have not experienced any clearance or margin issues and that the markets continue to function properly.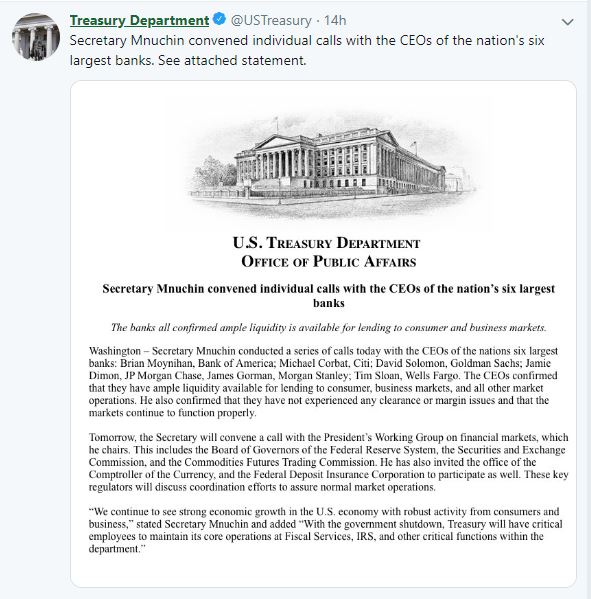 "We continue to see strong economic growth in the U.S. economy with robust activity from consumers and business," stated Secretary Mnuchin and added "With the government shutdown. Treasury will have critical employees to maintain its core operations at Fiscal Services, IRS, and other critical functions within the department."
Disclaimer:

Market news (the Market News) is not intended as investment advice and must not be relied on as such.

To the maximum extent permissible by applicable law, Mr. Crowd assumes no liability or responsibility whatsoever for any errors or omissions in the Market News. Mr. Crowd does not endorse or represent the reliability or accuracy of the Market News. Mr. Crowd shall not be liable for any investment decisions made based upon the Market News.

The Market News may contain hyperlinks to external websites or web pages for which Mr. Crowd is not responsible.

Copyright exists in the Market News may belong to Mr. Crowd, to the authors, or to any other parties depending on the circumstances. Reproduction, distribution, use and/or linking without consent from the relevant parties is not permitted.

If you believe or are aware that any information contained in the materials is inaccurate, erroneous, unlawful, obscene, defamatory or infringes any intellectual property rights of a third party, please contact Mr. Crowd by email at:
cs@mrcrowd.com
.