UniBoil is pleased to announce that their head chefs John Wong and Rick Lai had made headlines with their impressive and successful debut at the highly acclaimed World Master Chefs Competition for Cantonese Cuisine 2017. Mr. Wong and Mr. Lai won the competition's Gold Award in the seafood main course category.
2017 World Master Chefs Competition for Cantonese Cuisine, the mega event for the food and beverage industry, was hosted in Hong Kong from 5th - 7th of September. The competition was jointly organised by the World Federation of Chinese Catering Industry and the World Master Chefs Association for Cantonese Cuisine, with the Association for Hong Kong Catering Services Management Ltd. being the appointed organiser.
World Master Chefs Competition for Cantonese Cuisine is also one of the events held in celebration of the "20th Anniversary of the Establishment of the HKSAR". Themed "Taste in Hong Kong", this year's event converged over 300 elite chefs as representatives from 40 countries and regions worldwide and served the purpose of "Promoting Cantonese Cuisines Worldwide" and fostering culinary exchange and development.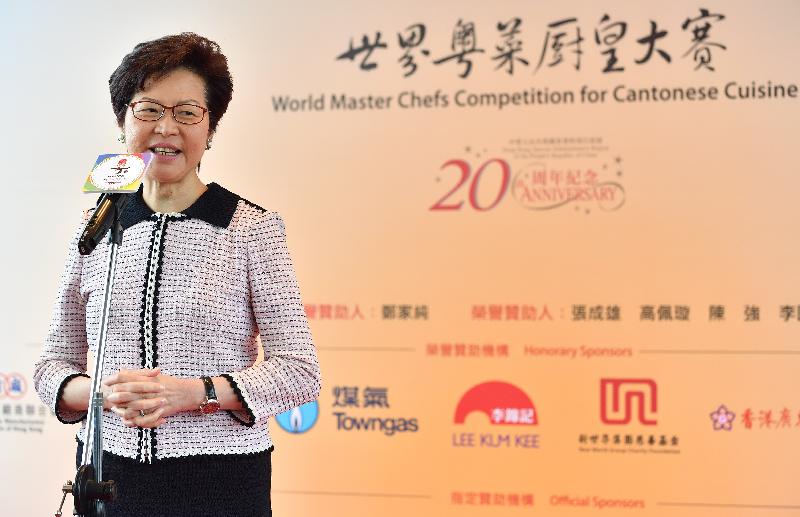 Mrs. Carrie Lam, Chief Executive of Hong Kong, delivering a speech at the 2017 World Cantonese Cuisine Competition.
Disclaimer:

News, announcements and press releases are provided by issuers (the Issuer's News) for the purpose of providing information to the public in the United States. It is not intended as investment advice and must not be relied on as such.

Please note the Issuer's News are provided to Mr. Crowd electronically by issuers and there is no agency, employee or partner relationship between Mr. Crowd and such parties. Mr. Crowd does not assume responsibility for editing or verifying the accuracy of the information contained in the Issuer's News. To the maximum extent permissible by applicable law, Mr. Crowd assumes no liability or responsibility whatsoever for any errors or omissions in the Issuer's News. Mr. Crowd does not endorse or represent the reliability or accuracy of the Issuer's News. Mr. Crowd shall not be liable for any investment decisions made based upon the Issuer's News.

The Issuer's News may contain hyperlinks to external websites or web pages for which Mr. Crowd is not responsible.

Any copyright information exists in the Issuer's News may belong to Mr. Crowd, to the issuers, to the authors, or to any other parties depending on the circumstances. Reproduction, distribution, use and/or linking without consent from the relevant parties is not permitted.

If you believe that any information contained in the materials is inaccurate, erroneous, unlawful, obscene, defamatory or infringes any intellectual property rights of a third party, please contact Mr. Crowd by email at:
cs@mrcrowd.com
.