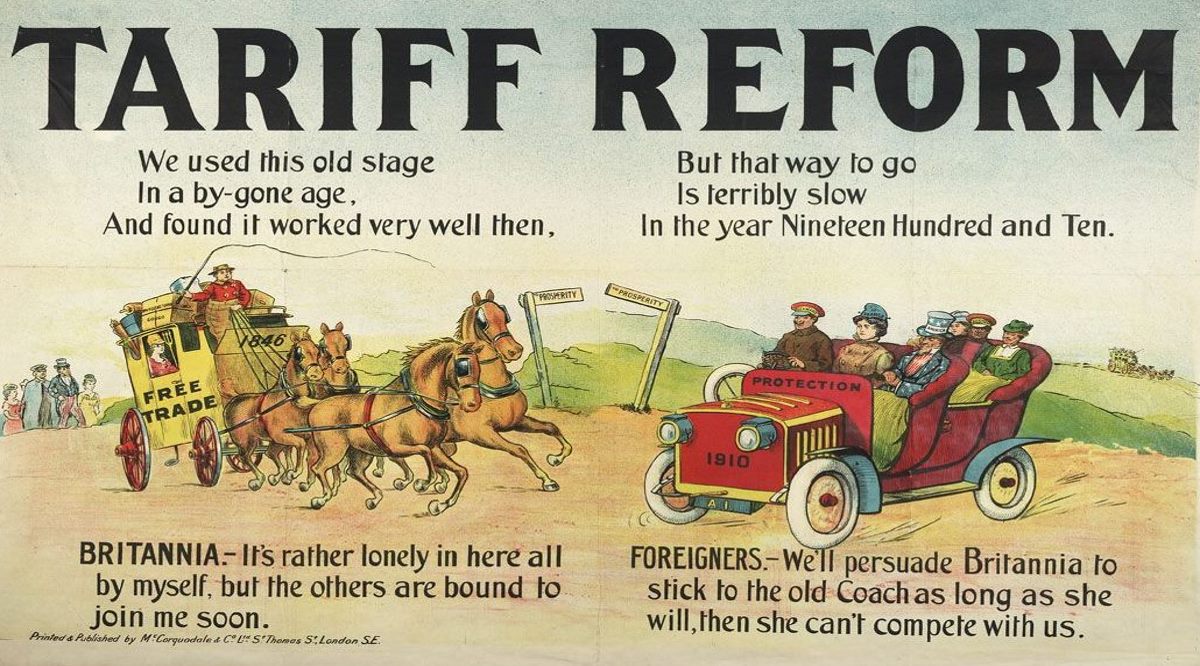 Vote for Tariff Reform Lithographs, by McCorquodale and Co Ltd (c1905-c1910)


Background: Britain remained officially committed to free trade since 1846. But the collapse of Britain's industrial primacy in the early 20th century caused Britain to abandon free trade in a desperate attempt to regenerate the economy.



Consumer sentiment slipped in early July to 97.1, down from the 98.2 recorded in June but remained nearly equal to the average in the prior twelve months (97.7), according to the latest The University of Michigan consumer sentiment survey.
The survey attributed the drop in consumer confidence is due to rising concerns about the potential negative impact of tariffs on the domestic economy. Negative concerns about the impact of tariffs have recently accelerated, rising from 15% in May, to 21% in June, and 38% in July.
"The darkening cloud on the horizon, however, is due to rising concerns about the potential negative impact of tariffs on the domestic economy," said Richard Curtin, the survey's chief economist of the survey.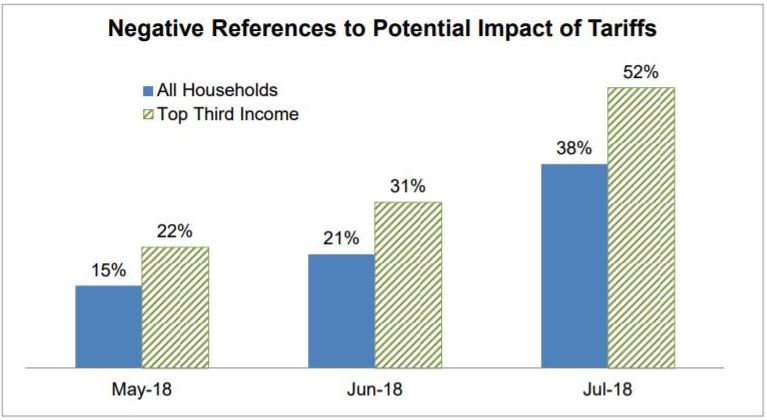 Source: University of Michigan


Consumers under 45's expect largest income gains since 2000

However, due to favorable job and income prospects, with consumers under age 45 anticipating the largest income gains since July 2000.The strength in jobs and incomes has overcome higher inflation and interest rates. Consumers in this group remain largely confident, and most of them feel that their economic situation will change for the better over the course of the next twelve months.





Disclaimer:

Market news (the Market News) is not intended as investment advice and must not be relied on as such.

To the maximum extent permissible by applicable law, Mr. Crowd assumes no liability or responsibility whatsoever for any errors or omissions in the Market News. Mr. Crowd does not endorse or represent the reliability or accuracy of the Market News. Mr. Crowd shall not be liable for any investment decisions made based upon the Market News.

The Market News may contain hyperlinks to external websites or web pages for which Mr. Crowd is not responsible.

Copyright exists in the Market News may belong to Mr. Crowd, to the authors, or to any other parties depending on the circumstances. Reproduction, distribution, use and/or linking without consent from the relevant parties is not permitted.

If you believe or are aware that any information contained in the materials is inaccurate, erroneous, unlawful, obscene, defamatory or infringes any intellectual property rights of a third party, please contact Mr. Crowd by email at:
cs@mrcrowd.com
.

Invest
$100
on US Startups

| | |
| --- | --- |
| Register Now | |

Social5, LLC (SOC)


raising up to $500,000


| | |
| --- | --- |
| Regulation: | Regulation CF |
| Securities Type: | Membership Units |
| Share Price: | $10.00 |


to go
Slumber Bump, LLC (SB)


raising up to $1,070,000


| | |
| --- | --- |
| Regulation: | Regulation CF |
| Securities Type: | Membership Units |
| Share Price: | $100.00 |


to go
The Armored Citizen, LLC (TAC)


raising up to $1,000,000


| | |
| --- | --- |
| Regulation: | Regulation CF |
| Securities Type: | Membership Units |
| Share Price: | $1.00 |


to go
Organic Living, Inc (OL)


raising up to $450,000


| | |
| --- | --- |
| Regulation: | Regulation CF |
| Securities Type: | Preferred Stock |
| Share Price: | $0.20 |


to go
Fragrance of Heaven LLC (FOH)


raising up to $450,000


| | |
| --- | --- |
| Regulation: | Regulation CF |
| Securities Type: | Membership Units |
| Share Price: | $8.00 |


to go