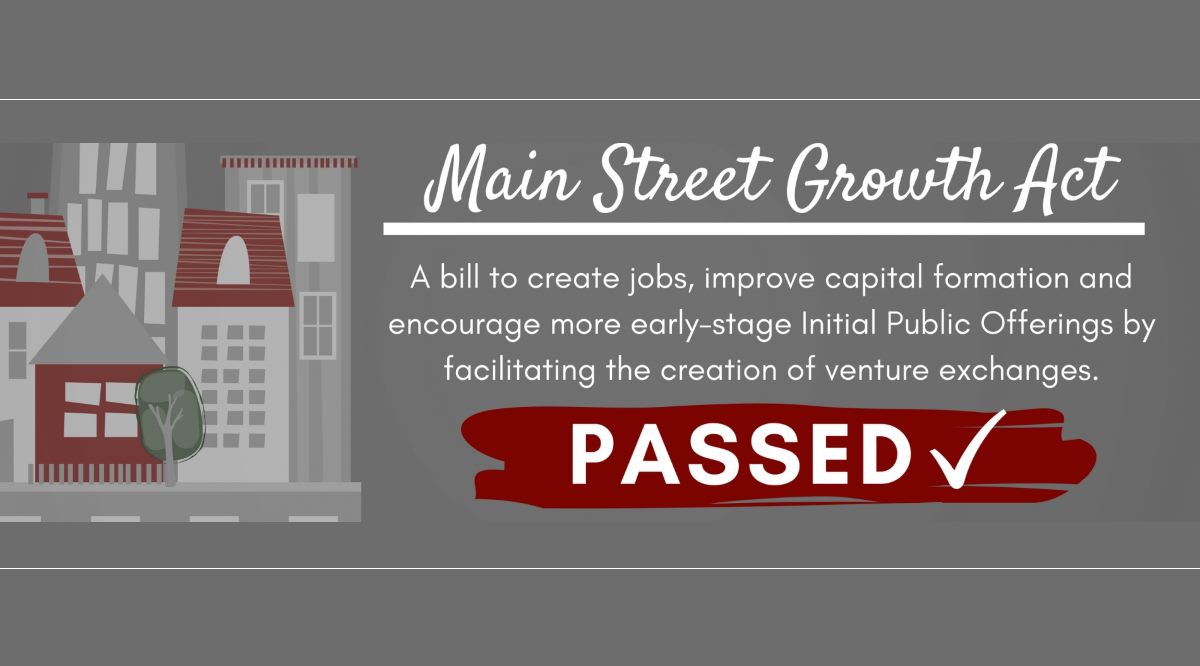 The U.S. House Committee on Financial Services met last week and passed the
Main Street Growth Act
(H.R. 5877), a bill that aims at providing liquidity for small companies through
venture exchanges
. The bill goes to the Senate next for consideration, before it could be signed into law by the President.
The Main Street Growth Act, sponsored by Congressman Tom Emmer of Minnesota, is to amend the Securities Exchange Act of 1934 to allow for the registration of venture exchanges tailored to the needs of small and emerging companies.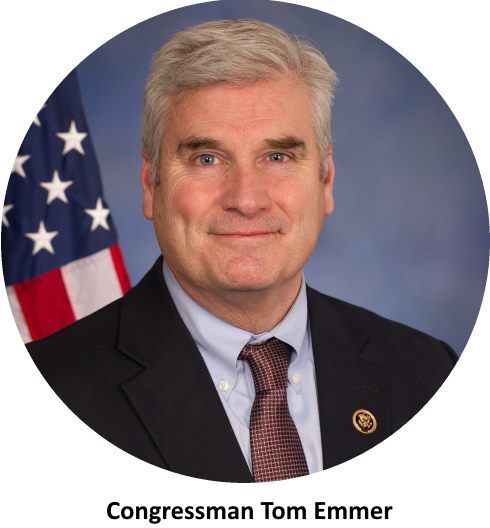 "Today, the House took an important step to add to this economy's growing momentum by passing the Main Street Growth Act," said Congressman Emmer.
According to Emmer, a 2012 study found that for nearly 2,800 companies that participated in an IPO between 1996–2010, total employment across these businesses increased by 2.2 million jobs, while total revenue increased by over $1 trillion. However, participation in the IPO process has slowed over the years. Today the U.S. has half of the number of publicly listed companies than it had two decades ago.
"It is critical that the current market structure meets the need for all types of companies to encourage more to go public which generates millions of jobs and trillions of dollars in revenue for the economy. This bill, which I was thrilled to see pass unanimously out of committee, will do just that by facilitating the creation of venture exchanges to embolden more early stage IPOs and improve capital formation for businesses in Minnesota and across the United States. As it heads to the Senate, I look forward to both sides of the aisle coming together to ensure that American entrepreneurs and workers can continue to succeed," concluded Emmer.



Disclaimer:

Market news (the Market News) is not intended as investment advice and must not be relied on as such.

To the maximum extent permissible by applicable law, Mr. Crowd assumes no liability or responsibility whatsoever for any errors or omissions in the Market News. Mr. Crowd does not endorse or represent the reliability or accuracy of the Market News. Mr. Crowd shall not be liable for any investment decisions made based upon the Market News.

The Market News may contain hyperlinks to external websites or web pages for which Mr. Crowd is not responsible.

Copyright exists in the Market News may belong to Mr. Crowd, to the authors, or to any other parties depending on the circumstances. Reproduction, distribution, use and/or linking without consent from the relevant parties is not permitted.

If you believe or are aware that any information contained in the materials is inaccurate, erroneous, unlawful, obscene, defamatory or infringes any intellectual property rights of a third party, please contact Mr. Crowd by email at:
cs@mrcrowd.com
.

Invest
$100
on US Startups

| | |
| --- | --- |
| Register Now | |

Social5, LLC (SOC)


raising up to $500,000


| | |
| --- | --- |
| Regulation: | Regulation CF |
| Securities Type: | Membership Units |
| Share Price: | $10.00 |


to go
Slumber Bump, LLC (SB)


raising up to $1,070,000


| | |
| --- | --- |
| Regulation: | Regulation CF |
| Securities Type: | Membership Units |
| Share Price: | $100.00 |


to go
The Armored Citizen, LLC (TAC)


raising up to $1,000,000


| | |
| --- | --- |
| Regulation: | Regulation CF |
| Securities Type: | Membership Units |
| Share Price: | $1.00 |


to go
Organic Living, Inc (OL)


raising up to $450,000


| | |
| --- | --- |
| Regulation: | Regulation CF |
| Securities Type: | Preferred Stock |
| Share Price: | $0.20 |


to go
Fragrance of Heaven LLC (FOH)


raising up to $450,000


| | |
| --- | --- |
| Regulation: | Regulation CF |
| Securities Type: | Membership Units |
| Share Price: | $8.00 |


to go